Polyimide Coated SM Fiber
http://www.luy-tech.com/  来源:北京路源光科技有限公司  咨询热线:010-68482707 68482709/10  浏览: 1512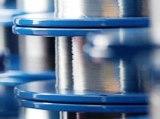 Fibercore's range of Polyimide coated, bend-insensitive Single-Mode (SM) fibers are specifically designed for use in harsh environments. The fibers target micro-seismic "fracking" sensors, distributed temperature and pressure sensors used in Oil & Gas exploration and process optimization. These fibers are also an excellent choice for embedded Fiber Bragg Grating (FBG) strain and temperature sensor applications.
Polyimide is a high performance polymer, which can withstand short-term temperatures as high as 400°C and continuous temperatures of 300°C, allowing the fiber to survive in high temperature wells and thermally cured embedding processes.
The fibers are available in a range of Numerical Apertures (NAs) from 0.13NA up to 0.31NA. Low NA fibers are designed for low attenuation applications where long lengths of fiber are used in a straight deployment state, for example in Distributed Temperature Sensing (DTS) systems. High NA fibers allow dramatically reduced bend losses for coiled deployment states, for example in coiled seismic/acoustic sensors.
Advantages:
• Engineered for high temperature applications up to +300°C
• High NA variants for extremely low macro and micro bend losses
• Reduced cladding options for high reliability coils and reduced package volume
• Photosensitive core designs for FBG inscription
Typical applications:
• Downhole sensors
• Geophones
• DTS, Distributed Acoustic Sensing (DAS), Distributed Strain Sensing (DSS) and Distributed Pressure Sensing (DPS)
• Embedded sensors
• FBGs
• Biomedical in vivo sensors
• High temperature sensors
Related Products:
• SM Fiber for Visible Through to Near IR (SM)
• High Temperature Acrylate Coated Fiber (SM-HT)
• Pure Silica Core SM Fiber (SM-SC)
• Photosensitive Fiber (PS)
Product Variants:
• SM1500(4.2/125)P Bend insensitive and highly photosensitive high temperature fiber for coiled and FBG sensors in high temperatures
• SM1500(6.4/125)P Highly Germanium doped fiber for sensor applications up to +300°C
• SM1500(7.8/125)P High temperature bridging fiber for use up to +300°C
• SM1500(9/125)P Polyimide coated transmission and distributed sensing fiber
• SM1500SC(9/125)P Polyimide coated, Hydrogen darkening resistantpure silica core fiber for high temperature and Hydrogen rich environments
• SM1500(4.2/50)P Bend insensitive Polyimide coated fiber for high reliability miniature coils
• SM1500(4.2/80)P High temperature bend insensitive and photosensitive fiber for embedded and coiled sensors
• SM1500(5.3/80)P Bend insensitive coiled sensor fiber for micro-acoustic "fracking sensors"
• SM1500(6.4/80)P Reduced cladding diameter coiled sensor fiber for micro-acoustic "fracking sensors"
• SM1500(7.8/80)P "Bridging fiber" for reduced splice losses between sensor fibers and telecoms fibers
• SM1500SC(7/125)P Pure silica core, bend insensitive, Polyimide coated fiber for high temperature accplications