Pure Silica Core SM Fiber
http://www.luy-tech.com/  来源:北京路源光科技有限公司  咨询热线:010-68482707 68482709/10  浏览: 1339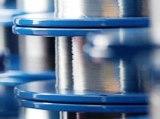 Fibercore's Pure Silica Core SM fibers (SM-SC) are designed for high performance in demanding applications. The SM1500SC(9/125) and SM1500SC(9/125)P are designed for use in Hydrogen-rich environments where the pure silica core resists the effects of Hydrogen darkening. The SM300-SC and SM400-SC are designed for Ultra-Violet (UV) and visible wavelength transmission. The silica core prevents photodarkening effects, which are normally associated with Germanium doped fibers.
Fluorinated, depressed cladding design (see the image to the right) allows the core to be made from pure silica without the need for Germanium doping.
The SM1500SC(9/125)P is designed specifically for down hole Oil & Gas applications. The fiber is engineered to resist the effects of Hydrogen ingress and when used with the high performance Polyimide coating, ensures the fiber is suitable for high temperature down hole applications.
Advantages:
• Reduced Hydrogen darkening
• Reduced UV induced photodarkening
• Polyimide varient for high temperature Oil & Gas applications
• Radiation tolerant core design
• Low attenuation 1550nm variants for long length sensors and communication
Typical applications:
• Oil & Gas Distributed Sensors
• Biomedical Illumination
• Microscopy
• Sensing in Radiation Environments
• Low Attenuation Telecoms Transmission
Related Products:
• SM Fiber for Visible Through to Near IR (SM)
• Polyimide Coated SM Fiber (SM-P)
• High Temperature Acrylate Coated Fiber (SM-HT)
• Multi-Mode (MM125)
Product Variants:
• SM300-SC Pure silica core fiber for transmitting long UV (UV-A) wavelengths without photodarkening
• SM400-SC Non-photodarkening fiber for transmission of violet, blue and green wavelengths
• SM1500SC(7/125) Pure silica core, bend insensitive fiber
• SM1500SC(7/125)P Pure silica core, bend insensitive, Polyimide coated fiber for high temperature accplications
• SM1500SC(9.125) Very low attenuation, pure silica core fiber for 1550nm transmission
• SM1500SC(9/125)P Polyimide coated, Hydrogen darkening resistant pure silica core fiber for high temperature and Hydrogen rich environments