High Temperature Acrylate Coated Fiber
http://www.luy-tech.com/  来源:北京路源光科技有限公司  咨询热线:010-88866512 88866513  浏览: 4150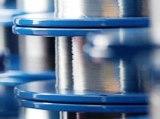 Fibercore's high temperature acrylate coated Single-Mode (SM) fibers are designed for continuous use at +150oC. The fibers are available with different Numerical Aperture (NA) ranges to give various levels of macro and micro bend losses and Mode Field Diameters (MFDs) to give the optimum choice depending on the application.
The SM1500(9/125)HT is primarily designed as a low attenuation fiber for use as a transmission fiber or as a distributed sensor for Distributed Temperature Sensing (DTS), Distributed Pressure Sensing (DPS), Distibuted Strain Sensing (DSS) and Distributed Acoustic Sensing (DAS) applications. The higher cut-off wavelength than standard telecoms fibers allows this fiber to offer improved bend losses over standard single-mode fibers.
The 6.4μm and 7.8μm MFD variants are designed to give very low macro and micro bend losses, higher backscattering coefficients for Raman, Rayleigh and Brillouin sensor systems and better splice compatibility to high NA, small MFD sensor coil fibers to allow use as a "bridging fiber" often used in acoustic sensors.

Advantages:
• Engineered for high temperature applications up to +150°C
• Easy to strip high temperature acrylate coating
• High NA variants for extremely low macro and micro bend losses
• Reduced cladding options for high reliability coils and reduced package volume
Typical applications:
• Geophones
• DTS, DAS, DSS and DPS
• Embedded Sensors
• Fiber Bragg Gratings (FBGs)
• Current Sensors
Related Products:
• SM Fiber for Visible Through to Near IR (SM)
• Polyimide Coated SM Fiber (SM-P)
• Pure Silica Core SM Fiber (SM-SC)
• Photosensitive Fibers (PS)
Product Variants:
• SM1500(6.4/80)HT Reduced diameter, bend insensitive fiber for tightly coiled applications in temperatures up to +150oC
• SM1500(6.4/125)HT Bend insensitive fiber for distributed sensors in high temperature environments
• SM1500(7.8/125)HT Bridging fiber to reduce splice losses between high temperature bend insensitive fibers and telecoms fibers
• SM1500(9/125)HT Telecoms style, low attenuation, large MFD fiber with specialty high temperature acrylate coating