SM Fiber for Visible Through to Near IR
http://www.luy-tech.com/  来源:北京路源光科技有限公司  咨询热线:010-68482707 68482709/10  浏览: 1286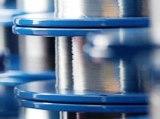 Fibercore's range of specialty Single-Mode (SM) fibers are designed to offer customers the best choice of fiber for their application without the performance sacrifices that would be experienced by using standard telecoms fibers.
These specialty fibers are available with medium and high Numerical Aperture (NA) to give dramatically reduced bend losses in comparison with telecoms fibers. This allows smaller packaging sizes to be achieved, particularly useful for coiled sensors and the next generation small form factor telecoms equipment.
The reduced cladding diameter fibers are designed to reduce static fatigue when the fiber is coiled, giving a longer mechanical lifetime in small coil diameters. Reduced cladding diameter fibers are offered with a high NA to benefit both from improved bend losses and improved
mechanical lifetime when coiled tightly.
Advantages:
• Designs optimized for visible to near-Infrared (IR) transmission
• High NA variants for extremely low macro and micro bend losses
• Reduced cladding options for high reliability coils and reduced package volume
• Photosensitive core designs for Fiber Bragg Grating (FBG) inscription
• "Bridging Fibers" for reduced splice losses between standard SM fiber and reduced core or cladding diameter sensor fibers
Typical applications:
• Hydrophones
• Geophones
• Down-link fibers
• FBGs
• DTS/DAS/DSS
• Laser Diode Pigtails
• Biomedical Illumination
Product Variants
• To view all product variants please visit fibercore.com/products
Related Products:
• Polyimide Coated SM Fiber(SM-P)
• High Temperature Acrylate Coated Fiber (SM-HT)
• Pure Silica Core SM Fiber (SM-SC)
• Photosensitive Fiber (PS)