Isolating Wavelength Division Multiplexer CP-IWDM
http://www.luy-tech.com/  来源:北京路源光科技有限公司  咨询热线:010-88866512 88866513  浏览: 3061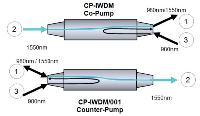 CP-IWDMs are hybrid products combining an integrated isolator and 980nm/1550nm Wavelength Division Multiplexer (WDM). They are designed to combine high power Multi-Mode (MM) pump light and Single-Mode (SM) signal light into SMM900(105/125) dual-clad pump-signal fiber. The signal is carried in the single-mode core while pump energy is confined within the large area 105μm multi-mode guide for delivery to dual-cladding doped fibers.
The CP-IWDM is designed specifically as a partner for the cladding pump amplifier fiber CP1500Y. It is ideally suited to systems incorporating Fibercore's other cladding pump component fibers: Multi-Mode Pump Fiber (MM105), a large core pump guide fiber, and Passive Dual-Clad Fiber (SMM900), a dual-clad fiber with single-mode core for signal propagation and multi-mode pump guide for high power pump light delivery.
Two variants of the CP-IWDM are available, a co-pump CP-IWDM and counter-pump CP-IWDM/001 to offer customers flexibility in their amplifier or laser design.
Advantages:
• Single component for WDM and isolating function
• Small package size
• Compatible with CP1500Y
• Epoxy free optical path
• High stability and reliability
• Ultra low Polarization Dependant Loss (PDL) & Polarization Mode Dispersion (PMD)
Related Products:
• Dual-Clad Erbium/Ytterbium Doped Fiber (CP1500Y)
• Multi-Mode Pump Fiber (MM105)
• Passive Dual-Clad Fiber (SMM900)
Typical applications:
• High Power Erbium Doped Fiber Amplifiers (EDFAs)
• Fiber Lasers
• WDM systems
• Cable Television (CATV)
Product Variants:
• CP-IWDM Co-pumping isolating wavelength division multiplexer
• CP-IWDM/001 Counter-pumping isolating wavelength division multiplexer