Erbium Doped Fiber MetroGain™
http://www.luy-tech.com/  来源:北京路源光科技有限公司  咨询热线:010-68482707 68482709/10  浏览: 1361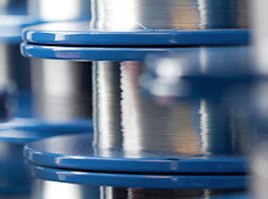 Fibercore's MetroGain™ range is designed for high efficiency 'Metro-style' Erbium Doped Fiber Amplifier (EDFA) configurations, single stage amplifiers, Amplified Spontaneous Emission (ASE) light sources and single channel or few channel EDFAs.
M-5(980/125) offers a relatively low level of doping to simplify EDFA manufacturing processes by reducing the sensitivity of the amplifier output to the precise gain length.
M-12(980/125) gives high absorption levels to allow short gain lengths and reduced material costs.
M-12(980/80) is an 80μm variant, benefitting from the higher absorption of the standard M-12(980/125) but allowing significantly longer mechanical lifetimes when used in small coil diameters, particularly important for small form factor EDFA designs such as mini EDFAs and micro EDFAs.
M-3(1480/125) is designed for pumping at 1480nm, accessing higher pump conversion efficiencies than pumping at 980nm.

Advantages:
• High conversion efficiency
• High absorption variants available for short amplifiers and EDFAs
• 80μm variant for small coil diameter applications
Typical applications:
• Erbium Doped Fiber Amplifiers (EDFAs)
• Amplified Spontaneous Emission (ASE) light sources
• Single channel amplifiers
• Mini and micro EDFAs
Related Products:
• Erbium Doped Fiber IsoGain™
• Dual-Clad Erbium/Ytterbium Doped Fiber (CP1500Y)
• GainMaster™ Simulation Tool
Product Variants:
• M-3(1480/125) Designed for single channel C-band amplifiers
• M-5(980/125) Designed for single channel C-band amplifiers
• M-12(980/125) Designed for short length single channel C-band amplifiers and L-band amplifiers
• M-12(980/80) Designed for small package size C-band and L-band amplifiers