Erbium Doped Fiber IsoGain™
http://www.luy-tech.com/  来源:北京路源光科技有限公司  咨询热线:010-68482707 68482709/10  浏览: 2086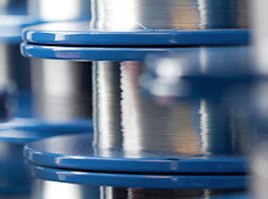 Fibercore's IsoGain™ range of Erbium Doped Fibers (EDFs) offer a wide selection of absorption and cut-off wavelengths to allow the best choice of fiber for each type of Erbium Doped Fiber Amplifier (EDFA) design.
Fibercore's low absorption fibers offer best-in-class efficiency for C-band amplifiers whilst higher absorption fibers are optimized for L-band EDFAs.
High cut-off wavelength (HC) fibers have larger core diameters, reducing non-linear effects and increasing efficiency at higher pump powers.
The core composition of Fibercore's IsoGain™ has been engineered to generate a substantially flattened wavelength response that closely matches that of other leading fiber types.
Advantages:
• High efficiency core composition
• 'HC' variants optimized for high pump power EDFAs
• High absorption fibers for L-band amplifiers and mini/micro C-band EDFAs
• Wide range of absorption values for EDFA design optimization
Typical applications:
• EDFAs / Telecoms
• ASE Light Sources
o Gyros
o Current Sensors
o Distributed Sensor Systems
• Fiber Lasers
• Biomedical Illumination
• Optical Coherence Tomography (OCT)
Related Products:
• Erbium Doped Fiber MetroGain™
• Dual-Clad Erbium/Ytterbium Doped Fiber (CP1500Y)
• GainMaster™ Simulation Tool
Product Variants:
• I-4 (980/125) For high efficiency C-band EDFAs
• I-4 (980/125)HC For high efficiency, high power C-band EDFAs
• I-6 (980/125) Increased absorption for high efficiency C-band EDFAs
• I-12(980/125) Mid level absorption fiber for short length C-band and L-band EDFAs
• I-12(980/125)HC High cut off wavelength, mid level absorption fiber for higher power short length C-band and L-band EDFAs
• I-15(980/125)HC High cut off wavelength, mid/high level absorption fiber for higher power short length C-band and L-band EDFAs
• I-25 (980/125) Very high absorption fiber for short length L-band EDFAs
• I-25H(1480/80) 80μm cladding diameter, high cut off wavelength, high absorption fiber for small coil diameter mini and micro EDFAs