FREEDOM VIS-NIR
http://www.luy-tech.com/  来源:北京路源光科技有限公司  咨询热线:010-88866512 88866513  浏览: 3194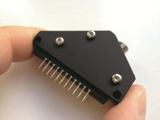 The FREEDOM VIS-NIR is a robust, athermal, industrial grade diode array based spectrometer for OEM integration. The key benefits of the product are:

• VIS-NIR range 475 – 1100 nm
• Compact size of only 25 x 48 x 16 mm
• Cost efficient
• High performance - resolution down to 1.5 nm and stray light < 0.03%
• OEM integration friendly design that allows easy adaptation to your own electronics and detector
• Robust and athermal design
This document is a detailed product specification describing the FREEDOM VIS-NIR principle of operation and technical specifications.
The FREEDOM spectrometers are intended for integration with your own electronics and therefore the electrical interface of FREEDOM is a direct access to the pins of the line detector array. For more information about the detector array interfaces supported by FREEDOM VIS-NIR please, see the respective data sheets from the suppliers listed in Chapter 2.2.
FREEDOM can also be supplied with the VersaPic USB/RS-232 controller and VersaSpec software. Please see chapter 4 for a description of this electronics and software option.