10G TIA for PD
http://www.luy-tech.com/  来源:北京路源光科技有限公司  咨询热线:010-88866512 88866513  浏览: 1256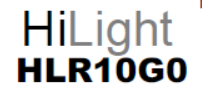 Product Overview
The HLR10G0 is a 'State of the Art' high sensitivity limiting transimpedance amplifier manufactured in an advanced CMOS process.
With 4.8kΩ transimpedance and differential CML outputs with 50 ohm back termination the HLR10G0 is designed to interface with a wide range of limiting amplifiers. It typically consumes only 30 mA supply current from a single 3.3V power supply.
The HLR10G0 includes a Receiver Signal Strength Indicator (RSSI) monitor function (supporting SFF- 8431/8472) that is configurable for sink or source
output.
The HLR10G0 features a compact die size, which together with on-chip supply filtering, no PINK decoupling requirement, and reduced bond count enables simple, low cost, high volume optical receiver assemblies.
HiLight has successfully tested the HLR10G0 TIA at 12.165 Gbps for use in CPRI 12G applications.
Main Features
▪ Typical -20.3 dBm SM AOP sensitivity at 10.3 Gbps (CPD = 110 fF, ER 10 dB, BER 10-12)
▪ Typical -15.3 dBm MM OMA sensitivity at 10.3 Gbps (CPD = 250 fF, ER 3 dB, BER 10-12)
▪ Compatible with multi-mode & single-mode PIN photodiodes
▪ 4.8kΩ differential transimpedance
▪ No PINK decoupling capacitor required
▪ +3.3V supply. Typical 30 mA supply current
▪ Compact 900um x 711um die
Applications
▪ 10GbE SR/LR/ER Transceivers
▪ 8xFC/10xFC Transceivers
▪ OC-192 SONET Receivers
▪ CPRI/OBSAI 6G/10G Wireless Basestation
▪ CPRI (Rate 9) 12.165Gbps standard