940nm 10W 光纤耦合输出半导体激光器
http://www.luy-tech.com/  来源:北京路源光科技有限公司  咨询热线:010-88866512 88866513  浏览: 4596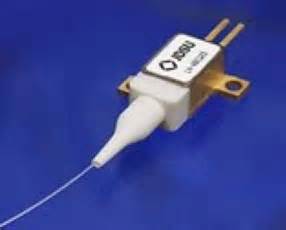 Key Features
• Full fiber laser feedback protection
• 10 W output power
• High reliability
• 105 µm aperture
• 0.22 or 0.15 N A
• Isolated electrical contacts
Application
• Fiber laser pumping
The JDSU L4i Series fiber-coupled diode laser is the latest solution in our L4 platform for the fiber laser pumping market.
The L4i design, which leverages the L4 footprint, offers a high degree of feedback protection from any fiber laser wavelength.This feature allows end users to operate the fiber laser in an environment virtually free from the risk of feedback to the diode laser, resulting in a less costly solution than a traditional isolation system.
Our 6398-L4i series diode lasers offer 10 W of power from a 105 µm fiber. In addition, the L4i multimode pump modules take advantage of the existing global JDSU manufacturing infrastructure to offer both high brightness and a small footprint, with consistent high reliability in a cost-effective solution.